UNB, Sri Vishnu Education Systems, ONB announce new computer science initiative
University of New Brunswick
Author: University of New Brunswick , Press Release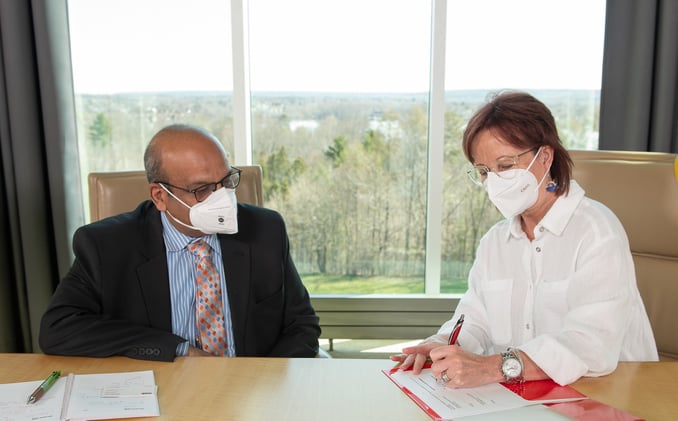 Photo: Dr. Vishnu Raju, chairman of the Sri Vishnu Education Society, and Dr. Kathy Wilson, UNB's vice-president academic.
Photo credit: Jeff Crawford/UNB Media Services
The University of New Brunswick (UNB) with the Sri Vishnu Educational Society (SVES) and Opportunities New Brunswick (ONB) have announced a new partnership that will provide an employment experience for SVES students through the master of computer science by coursework (MCSC) program at UNB.
"UNB is committed to creating academic programming that attracts global talent to New Brunswick," says Dr. Paul J. Mazerolle, president and vice-chancellor of UNB. "By training and educating a diverse cohort of multi-skilled and agile computer scientists, we are shaping the workforce to meet the future demands of our fast-changing, digital world."
Academia, government and industry are partnering to provide students with experiential learning opportunities and training to address the workforce labour shortage. Through this partnership, SVES students will complete the course requirements for the MCSC at UNB while ONB will help to identify meaningful employment opportunities within private and public sectors.
"With the demand for IT skills only expected to increase, we are hopeful that this initiative, and others like it, will help grow the overall talent pool in New Brunswick. The ONB team is looking forward to continuing the important task of connecting New Brunswick employers to the program," says Opportunities NB CEO Sadie Perron.
"SVES alumni working in large global corporations in India will have the opportunity to obtain a quality master of computer science degree with specialization from a reputable Canadian university directly under this MOU with UNB," says KV Vishnu Raju, chairman of the Sri Vishnu Educational Society.
Investing in upskilling and reskilling opportunities will help New Brunswick move forward to a digitally powered economy by building capacity in areas to equip the future workforce with the skills required to achieve a technology-enabled New Brunswick. MCSC students select from one of five program concentrations: machine learning, cybersecurity, user experience, systems, and data science.
The MCSC program consists of a minimum of 10 graduate and undergraduate courses normally completed within 36 months. Interested SVES alumni with an undergraduate degree and two years of work experience can apply to UNB's MCSC program online.
Media contact: Kristen d'Entremont
Read the press release here