Techtalks podcast episode, an upcoming Event and VIVE award – International Women's Day at TechImpact
Author: TechImpact
Another incredible International Women's Day in the books for 2022 and this year was extra special for so many reasons. We launched a new podcast yesterday with Emma and Jharana talking about the Girls STEM UP Conference happening on March 20 and we announced our upcoming event on March 22 featuring three women who will talk about their careers in tech. Then, on top of that were the Government of New Brunswick VIVE Awards.
When I found out the Women's Equality Branch had announced the recipients for the second annual Minister's Awards for Excellence in Championing Gender Equality – VIVE and I was included with 4 other incredible women, I was thrilled and very grateful. Congratulations to the other recipients Vera Chen, Lyne Chantal Boudreau, Rev Elizabeth Stevenson, and Michele Cronin.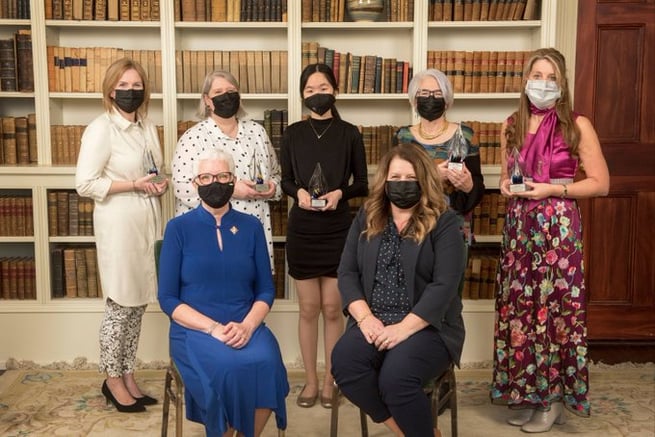 Honourable Brenda Murphy, Lieutenant Governor of New Brunswick, Minister of Tourism, Heritage and Culture, Tammy Scott-Wallace and 5 recipient of VIVE awards 2022
The event held on March 8 at the Government House allowed us to gather and celebrate International Women's Day, and for the recipients to meet the champions at the Women's Equality Branch (they do really important work!), the Honourable Brenda Murphy, Lieutenant Governor of New Brunswick, Minister of Tourism, Heritage and Culture, Tammy Scott-Wallace and the Middle School Students who contributed incredible stories of women who inspired them.
At the beginning of the award ceremony, we were all moved by an incredible young woman, a grade 12 student from Moncton. Anastasia Zaiets. Originally from Ukraine, Anastasia has been in New Brunswick for over 2 years. She spoke of the utter pain and devastation in her homeland, the fear she is living with for her family and friends still there, and the war atrocities that are occurring. She spoke of the bravery of the men, women, and children experiencing this devastation. In the most beautiful way, she then did a dance to express all of this about a young woman named Ukraine. The dance depicted the beauty before this war and then the terror of what is occurring now. I still have chills. Anastasia was vulnerable, brave, courageous, and so strong in her words and beautiful movement. It will stay with all of us who witnessed the power of her voice.
At events like these, I am always reminded of the impact that incredible women are having in New Brunswick to make it better in so many ways, to break the bias, and champion gender equality. Despite the incredible progress women have reached in recent years, it's just not enough. We all play a role, support the change-makers. Pay attention to them, you'll be inspired to act.
My daughter Maggie, my husband Mike, and my TechImpact colleague, Angelisa joined me at the celebration and that made it even more special. Thank you to the Government of New Brunswick for this wonderful honour.