Sandpiper Ventures Announces Close of First Fund Investing in Women-Led Companies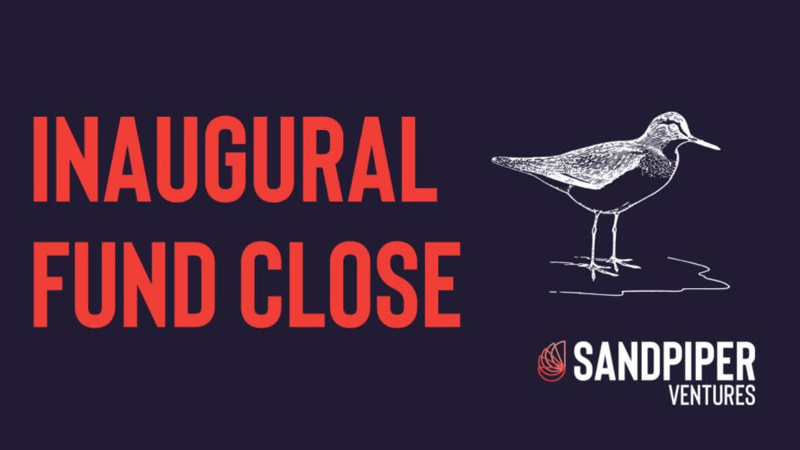 Halifax – August 4, 2022 – Sandpiper Ventures' flagship SV Fund I (SVF I) announced the successful close of the venture capital (VC) fund investing in women-led companies, surpassing an initial fundraising goal in excess of $20 million. Among the first all-woman GP national funds in Canada, it was created by a team of successful operators with broad experience building businesses and was launched to invest in women and women's innovation as a proactive and profitable business decision.
The fund has Limited Partners from across Canada, including four of the country's big-five banks and investment from all Atlantic Canadian provinces. They are the second largest women-led fund to close, on the heels of StandUp Ventures at $35 million.
The East Coast Canadian fund identifies seed stage companies and draws on founders seeking operator experience and networks to help them grow their companies. It was established to influence investment data that women founders consistently are underinvested despite overperforming. Along with investing in women founders, the Fund is committed to growing the proportion of women investors. Within the Sandpiper portfolio, more than half of the Limited Partners are new to the asset class, and through the Fund's Foundation, the Atlantic Women's Venture Foundation, founders are given access to a breadth of resources including professional development masterclasses, mentorship, specialized guidance for their business units including operations, supply chain, finance and marketing and access to a network of global leaders.
The current Sandpiper portfolio consists of a range of women-led tech enabled Canadian companies including:
Sandpiper was one of the first venture funds in Canada investing in women-led companies at the seed stage, and the first on the East Coast. Designed to attract private sector capital to the region, the fund has the largest number of private investors in an Atlantic Canadian venture fund. To date they have matched all public funds with private sector investment.
"We have arrived at an exciting nexus point for women in the investment space and we are here to change the narrative around traditional VC," Sandpiper Founder and Managing Partner Rhiannon Davies comments. "The close of this fund is a commentary around priorities in the investment landscape and how those decision makers are connecting their investments to performance, with women at the helm."
Sandpiper investors include notable business leaders from across Canada. Investors committed during the first round of fundraising include institutional and individual investors and family offices such as Annette Verschuren, Gerry Pond, Mark Dobbin, Frank Sobey's Firinn Investments, Technology Venture Corp, CFFI Ventures, Scotiabank's Roynat Capital, BMO, TD, and CIBC.
Annette Verschuren, O.C., Chair and CEO, NRStor Inc., one of Sandpiper's early investors, notes, "Any Canadian can appreciate the evolving investment environment. We are entering a turbulent yet transformational next phase for the economy – one that requires exceptional ideas and innovations to solve complex problems facing our environment, our healthcare systems, our industries and our daily lives. The companies in Sandpiper's portfolio and pipeline are doing that – and with investment and leadership from the Sandpiper network, we are creating impact by not only building businesses but building female leaders for today and for tomorrow's Canada".
Sandpiper will continue the firm's strategy of working closely with exceptional entrepreneurs and management teams to build innovative, tech-enabled companies across the country.
QUOTATIONS
"We are here to create a blueprint that we would hope others would replicate. Investing in Canadian entrepreneurs is good business. And 17.5 per cent of those are women. Our operator-led model is our unique story and where we are creating true impact. We've built and sold businesses – and we are sharing those experiences in real-time, regular conversations with our founders. We will continue to march towards bigger and better endeavours as we celebrate successful milestones such as this one today."
- Cathy Bennett, Founder and Managing Partner, Sandpiper Ventures
"Women will win in VC when given the runway and resources. Our investors are recognizing the bottom-line opportunities to invest in women-led companies, correlating traditional underinvestment with overperformance. The experience of our leadership team is sought out as market conditions change. We enable founders to establish a solid foundation for product launch, early traction through marketing, recruitment and hiring, further market research to eventually scaling their business. We have created greater access to capital and will continue to fuel the tenacity of our current and future founders."
- Sarah Young, Founder and Managing Partner, Sandpiper Ventures
"Sandpiper Ventures is critically important in directing capital to underserved yet high-performing female-led companies with immense potential. However, it is the leadership, network, support, and platform provided by the fund and its world-class management team that is arguably more impactful on the trajectory of the fund's portfolio companies and founders."
-Brianna Stratton, President, DeNova
"BMO's Purpose, to Boldly Grow the Good in business and life, inspires our commitment to making progress for a thriving economy, sustainable future and inclusive society. This fund directly supports the elimination of barriers to women's financial progress and we are proud to commit our investment. We understand the profound, positive impact that women business owners have on our economy and we're focused on providing access to diverse investment portfolios and deploying capital to help them grow their businesses. The natural alignment between BMO and Sandpiper Ventures includes our shared vision for greater diversity, equity and inclusion and we look forward to seeing the impact this partnership will make."
-Devon Dayton, Head, Technology & Innovation Banking Group, BMO Financial Group
"We share Sandpiper's goal of bringing more women to the investment table. We know that to create true impact, it requires resources and unbiased access to capital. We are committed to helping empower women to take control of their financial future - and this investment in Sandpiper is a manifestation of this goal."
-David Rozin, Vice President and Head, Technology and Innovation Banking, Scotiabank
"The Sandpiper Ventures fund is well-aligned with TD's commitment to supporting women in enterprise and promoting an environment where more women choose to become entrepreneurs or scale existing businesses. We are inspired by the talent, leadership and vision of the Sandpiper team and are excited to work with them to create more investment opportunities for Canadian women."
– Scott Penner, Managing Director, TD Securities
"CIBC is committed to advancing inclusion and increasing access to capital for women-led businesses as part of building a strong economy. We're proud to be supporting the team at Sandpiper Ventures and other funds as they continue to change the narrative around traditional VC to reflect the world in which we live, and to helping make the ambitions of women-led companies a reality across the country including Atlantic Canada through proactive investment and world-class advice."
-Lisa Raitt, Vice-Chair and Managing Director, Global Investment Banking at CIBC Capital Markets
"While inroads have been made over recent years, women still receive only a fraction of available venture capital dollars, and that momentum needs to continue. I am excited to follow Sandpiper's journey as they make investments in Canadian entrepreneurs and strengthen the evidence around women-led businesses."
– Kim Furlong, Chief Executive Officer, Canadian Venture Capital and Private Equity Association (CVCA)
QUICK FACTS
Women-owned businesses currently receive just 2.8 per cent of venture capital (VC) funding available worldwide, and an estimated four per cent of VC funding in Canada

(Innovation, Science and Economic Development Canada)
Women are also under-represented among equity investors, representing only 15.2 per centof Canadian VC partners and 16.7% of Canadian angel investors. (Innovation, Science and Economic Development Canada)
Women working in analyst, senior analyst, and associate roles make three to 13 per cent less than their male counterparts in median salary. Bonus-wise, women analysts also make 43 to 46 per cent less than men, while associates earn the same (Canadian Women in VC)
Women-led startups ultimately deliver higher revenue — more than twice as much per dollar invested

(Boston Consulting Group)
Only two per cent of angel investors in Canada are women and women founders receive only three per cent of VC dollars. Women of colour receive just 0.2 per cent of funding, and there are no stats available for Indigenous women, 2SLGBTQ+ women and/or women with disabilities, likely because the numbers are so small.


Women-founded companies perform 63 per cent better than all-male founded companies. (First

Round

Capital)


Only seven per cent of emerging markets investment capital goes to women-owned firms.

(World Bank Group)
ABOUT SANDPIPER VENTURES
As one of the first all-woman GP funds in Canada, Sandpiper Ventures (www.sandpiper.vc) is a seed stage venture capital fund committed to investing in women and women's innovation as a proactive and profitable business decision. Sandpiper's management team and active advisors are proven business leaders. With deep industry experience and expansive networks, they provide access to unique deal-flow and the tools with an operator's lens to support portfolio companies to scale massive proportions. Sandpiper is co-founder of Canada51, a nationwide movement to radically increase women's participation in the innovation-driven economy. To learn more, visit Sandpiper.vc.
FOR MORE INFORMATION OR TO REQUEST AN INTERVIEW, PLEASE CONTACT:
Tara Wickwire
Brand and Network Lead
Sandpiper Ventures
902.403.6391
tara@sandpiper.vc
Follow Sandpiper :
Twitter @Sandpiper_VC
Instagram @Sandpiper_VC
LinkedIn: https://www.linkedin.com/company/sandpiperventures;
Read the press release on Sandpiper Venture Capital's website here