New Brunswick Companies Head to Georgia for New Export Opportunities
Author: OpportunitiesNB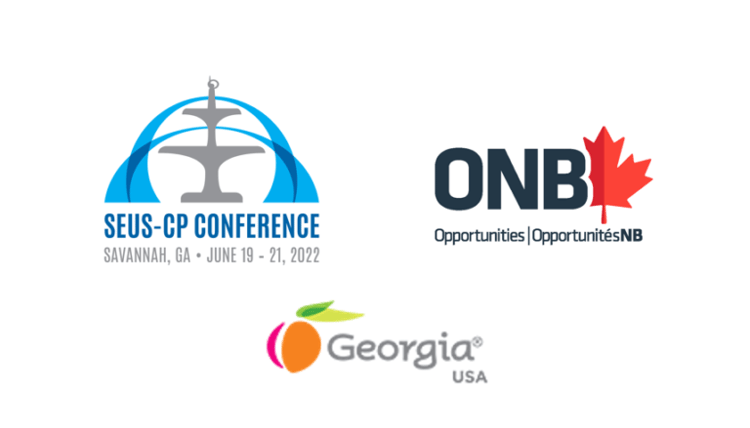 This week, the Opportunities NB (ONB) team and a group of New Brunswick-based businesses went down to Georgia as part of the annual Southeast U.S.-Canadian Provinces (SEUS-CP) conference.
Created in 2007, the SEUS-CP alliance is comprised of the U.S. states of Alabama, Georgia, Mississippi, North Carolina, South Carolina, and Tennessee, and the provinces of New Brunswick, Nova Scotia, Prince Edward Island, Newfoundland & Labrador, Quebec, and Ontario.
Established to improve trade and investment opportunities, promote partnerships, and enhance technological exchanges between member provinces and states, SEUS-CP gives New Brunswick companies an incredible opportunity to meet with major buyers in U.S. markets.
Major Players in Attendance
This year's conference in Savannah will see New Brunswick companies meeting with several major players in food & beverage and transportation & logistics, all of whom are in the market for new suppliers.
Ultimately, the goal of the conference is to increase international opportunities and grow export revenues for our businesses; increase knowledge of our unique companies and their capabilities; and grow New Brunswick's trade and business networks within the participating SEUS-CP states and provinces.
The Alliance itself reinforces the importance of the long-standing U.S.-Canadian relationship and expands our commercial opportunities in growing sectors and markets through new partnerships. This year's event will help New Brunswick companies increase their market knowledge and create export development opportunities within the southern U.S. market.
New Brunswick Well Represented
With business travel having been impacted significantly over the last two+ years, SEUS-CP is a welcome opportunity for ONB, the province of New Brunswick, and our companies to engage in valuable in-person in-market meetings and further strengthen our trade relationships.
New Brunswick companies in attendance include:
B2B matchmaking led by Market Access International (MAI) is allowing our businesses to meet with significant anchor companies including the Coca-Cola Company, Delta Air Lines, Georgia Ports Authority, Georgia Power, KIA, and Norfolk Southern. A head of delegation program is also being arranged for Minister Dunn and her provincial and state counterparts.
ONB looks forward to building on the momentum the SEUS-CP Conference is sure to create for our client companies. We will continue to focus all of our efforts on supporting those companies with plans to grow in our province and reach new international markets in the process.
We will continue to tell the success stories that are shaping the future of the New Brunswick economy. Keep an eye on our social media channels for more of those stories in the coming weeks: Twitter – Facebook – LinkedIn – YouTube
Read the original article here