Frank and Julie McKenna establish scholarship for UNB students from Miramichi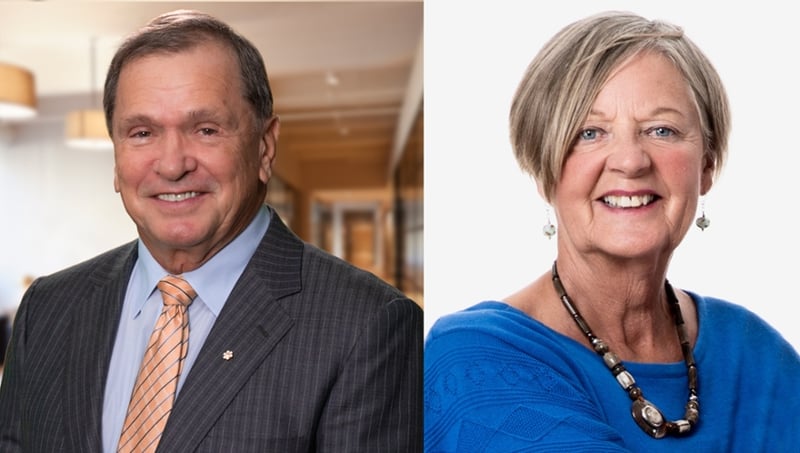 The McKenna Institute at the University of New Brunswick (UNB) has announced a $300,000 gift from The Hon. Frank McKenna, PC, OC, ONB, QC, and Julie McKenna to establish the Frank McKenna Computer Science Scholarship at UNB.
Awarded to students from Miramichi-area high schools and valued at up to $15,000, the Frank McKenna Computer Science Scholarship is the latest addition to the prestigious McKenna Scholars Program at UNB. The McKenna Scholars Program is an integral part of the McKenna Institute's mandate for a greatly expanded and even more engaged faculty of computer science and will form a community of students that acts as a catalyst for economic growth while accelerating talent and ideas in a digital New Brunswick. With a focus on women, Indigenous students and students in financial need, the McKenna Scholars Program will attract the best and brightest students from across Canada and around the world.
The Frank McKenna Computer Science Scholarship is open to graduates of James M. Hill, Miramichi Valley, and North and South Esk high schools who are enrolled in the bachelor of computer science, bachelor of science in software engineering or bachelor of science in computer science degree programs. While the award is open to entrance and returning students, preference is given to entrance students. Selection is based on academic achievement.
The inaugural recipients of the Frank McKenna Computer Science Scholarship for 2022-23 are Evan DeSousa, Braeden Martin and Francesca Stewart. DeSousa and Martin are both 2022 graduates of Miramichi Valley High School who are enrolled in UNB's bachelor of computer science program at UNB Fredericton. Stewart, of South Esk, is entering the second year of the bachelor of science in software engineering program.
"It is my greatest hope that these scholarships will see those with a passion for the potential of digital technology succeed in enriching their communities," says Mr. McKenna. "The goal for these awards will also contribute to removing barriers for those who wish to participate in the growing digital economy in New Brunswick. Not only are we striving towards an expanded computer science faculty at UNB, but towards a diverse community of learners, where those who want to learn can see a place for themselves."
"UNB and the McKenna Institute are united in our passion for developing creative, multi-skilled computer science and software engineering graduates who will lead the future of problem-solving with digital solutions," says Dr. Paul J. Mazerolle, UNB's president and vice-chancellor. "With this generous contribution to the McKenna Scholars Program, the McKennas will nurture the next generation of digital leaders, allowing UNB to attract some of the brightest young minds in New Brunswick. Together, we are propelling New Brunswick and Canada forward."
Founded in 2021, the McKenna Institute builds upon the life's work of its benefactor, The Hon. Frank McKenna, PC, OC, ONB, QC, serving as a catalyst and a connector for academia, industry and government to foster a globally competitive digital economy and society.
Media contact: Kelsey Pye
Photo: Frank and Julie McKenna
Read the press release on UNB's blog here