AdvanceU - A management workshop series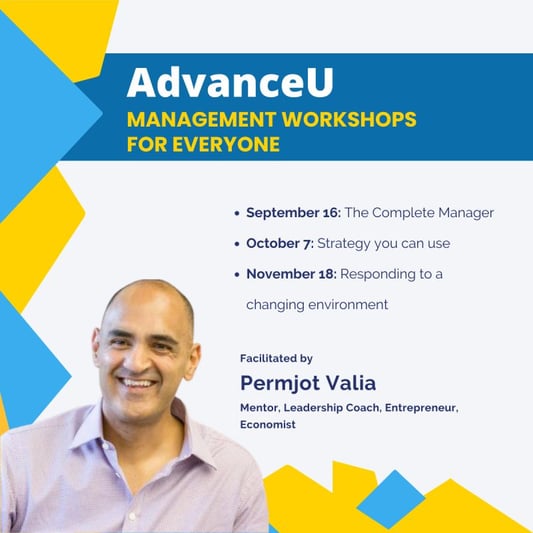 Date: September 16 , October 7 and November 18
Description :
Managing others, whether you are a startup founder or someone recently promoted within the company, can be a rollercoaster ride. With the right coaching at the start, you can develop the management skills needed to deliver tangible business results.
The AdvanceU series led by seasoned mentor and strategy coach Permjot Valia will help you discover aspects of management, strategy, talent development within your team, and spotting and responding to disruption in your environment. Walk away with tips, framework and lessons you can start applying immediately!
These are 3 in-person workshops (2-hours long each) spread over 3 months, and will be valuable in your professional development journey either as a standalone workshop or as the complete series, regardless of your company and team size.
When: 3 Fridays, 3 workshops – September 15, October 7 and November 18
Where: The Junction, 770 St George Boulevard, Moncton, NB E1E 2C6
Who can register: Aspiring managers, new managers, startup founders and seasoned managers
For more information : Click here