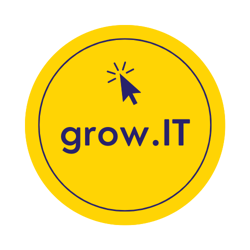 Are you ready to pursue a career in IT?
Grow.IT has all the tools and opportunities you need to build a bright career in IT right here in New Brunswick!

The demand for IT jobs in Atlantic Canada is growing. Grow.IT is committed to taking action to help increase the number of skilled technology practitioners within our workforce, following the recommendations laid out in the NB IT Workforce Growth Plan. Grow.IT aims to fill the gaps in the IT Workforce that our province is facing.
From this site, you will be able to find out all about the programs, boot camps, learning opportunities and initiatives that are designed to help grow New Brunswick's IT workforce and reach its massive potential.
If you need help taking the next step, please don't hesitate to contact us, and we can figure it out together.
Subscribe for Updates on grow.IT Initiatives.