New Brunswick's 3D Planeta Brings Innovation to Earth Observation and Beyond
Opportunities New Brunswick (ONB)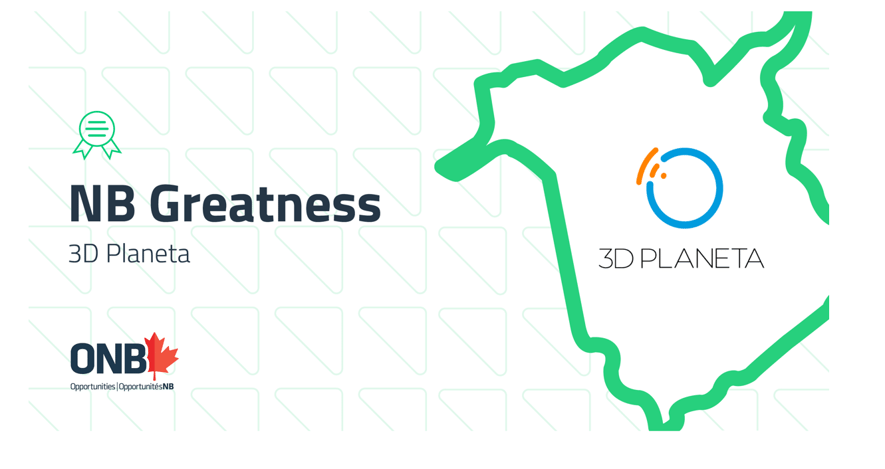 Founded in 2018, Fredericton's 3D Planeta is providing innovative cloud-based solutions for the Earth intelligence space. Three years after launch, the company is closing a $1.1 M (CAD) round of investment, which means their team is continuing to grow.
"It's given us the capital to really ramp up building the team that will fully develop our product. It's been all about bootstrapping until now," says Norm Couturier, President and CEO. "That means more recruiting, including current roles for software engineers."
A Disruptive Industry
3D Planeta's cloud-based platform creates on-demand digital twins of any location on Earth using the latest in satellite technology, aerial imagery, ground information, and underwater data. "We fuse it all together into a true 3D visualization in a collaborative environment. Behind that, we have an AI machine learning engine that helps humans make better critical decisions about where to go or what to do next."
Much of the company's work is done in the Unreal Engine, a versatile game engine developed by Epic Games. "Anyone with experience building games on Unreal can apply those same skills to building real digital twins of the Earth for 3D Planeta. It's like a game only real."
A Diverse Company
Couturier says his team has grown to 17 full-time and 5 part-time employees, with 6 to 9 co-op students per school term on board as well. He says the company has benefitted from great relationships with New Brunswick's post-secondary education ecosystem and with Ottawa's Algonquin College (Geomatics). "We have recruited great talent from the New Brunswick Community College, both campuses of the University of New Brunswick, and more recently Algonquin College. It's not only new talent, it's also newcomers to Canada doing post-grad work here. It's a mix of computer science and geomatics students, along with MBA candidates."
3D Planeta staff come from Canada, Iran, India, China, Ukraine, and Turkey. Their current student cohort is comprised of people from India, Morocco, Egypt, and Nigeria.
"Great talent can come from anywhere," says Couturier. "Our company is something of a melting pot. No matter your background or place of origin, if you have the skills and the desire to work in an innovative space with disruptive tech, this is the company for you."
A Positive Impact
3D Planeta is also a certified B Corporation (B Corp). "A big part of our ethos is that how we operate is as important as what we build," notes Couturier. "B Corp certification exemplified many of our values – community, sustainability, environmental consciousness, social responsibility. We worked hard to achieve certification and we're proud of it."
The company has adopted three of the United Nations' 17 sustainable development goals as areas of focus – Decent work and Economic growth (#8), Industry, Innovation and Infrastructure (#9), and Sustainable Cities and Communities (#11). Read more about these efforts on their Insights blog.
Supply Chain Opportunities
Couturier lists renewable energy exploration, smart mining, agritech, low-carbon farming, coastal monitoring, emergency response and disaster management as some of the sectors that can benefit from 3D Planeta's platform.
"There's plenty of opportunity to bring our tech to large organizations looking for better insights on the ground and we see ourselves as a globally exporting business," he says. "We're looking to create relationships with national and international firms with a presence in New Brunswick. ONB, with its contacts to local and international businesses with a footprint here, acts as a conduit connecting leaders from those organizations – as well as other GNB departments – with companies like ours. That's an important relationship for us to keep building on."
Learn more at 3dplaneta.com.
–
Do you have capabilities to support supply chain gaps for other New Brunswick companies? Contact ONB's Business Growth Team for assistance in connecting you to great opportunities here at home.